2012 CARIBOU HILLS CABIN HOPPERS ANNUAL KICK OFF PARTY A HUGE SUCCESS!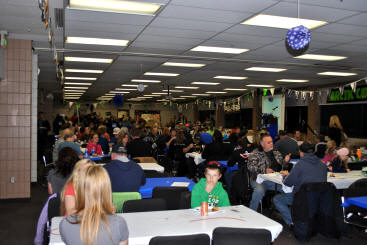 The Caribou Hills Cabin Hoppers would like to thank the following people and businesses who donated so generously towards making our 2012 Kick-Off Party such a success. Special thanks go to Peninsula Powersports, River & Sea Marine, and Arctic Motor Sports for the loan of new snowmachines for display at the event, Chris and Steve Calabrese from "BBQ To Go" for the delicious sandwiches, Lela and Scott Rosin, and the Duck Inn for the fine bar, Sportsman's Warehouse and Rich Van Hatten, Eric Dahlman and Liz Barstoff for the amazing "Wall of Goods" raffle, and the crew from the Soldotna Sports Center for all their help. We would also like to give "thanks" to the members who donated generously their time organizing and participating in the event; our Events Coordinator Dave Ramsey and his wife Shelley; Randy and Nancy Wheeler; Jeff and Stacy Warton; Glen and Cindy Smalley; Jeff and Pam Breakfield; Rick and Jaye Northey; Larry and Becky Davis; Sheila, Tanner and Dalton Best and Delora Garcia. Thank you to all members and businesses who helped us "Kick-Off" the start of a new winter season.
Happy Holidays and Safe Riding!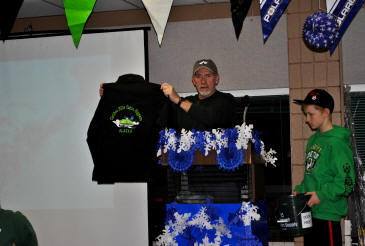 27 Red, A Fireplace Store, A Healthy Touch, Affinity Salon, Airport Equipment Rental, Alaska Bolt & Chain, Alaska Horn & Antler, Alaska Oil Sales, Alaska Road Builders, Altman Rogers & Company, Alyeska Tire-Soldotna, Amerigas, Anchorage Satellite Phones, Arby's, Aspen Hotel- Soldotna, Auto Spa, BBQ To Go, Bear Essentials Custom Log Furniture, Beemun's, Blockbuster-Soldotna, Cadre Feed, Caribou Family Restaurant, CBC Rental, Charlie's Pizza, Coca-Cola of Kenai, Columbia Paint, Dairy Queen, Davis Block, Don Jose's-Soldotna, Vicki Duggin, Dynasty Interiors, Eyewear Express, Floral Design Studio, Four D Carpet One, Frames n Things, Freddie's Roadhouse, G. F. Sherman Signs, Gary's Marine & Truck Electric, Gourmet Garden Market & Deli, Grant Aviation, Hair Force, Hey Good Lookin', High Mark Distillery, Maria Horwath, Inlet View Restaurant, Jackson Enterprises, Jasmin's, Jersey Subs-Soldotna, Johnson's Tire, Kassik's Brew Stop, Kenai Auto, Kenai River Brewing, Kathy Lopeman, Louie's Steak & Seafood Restaurant, Mag-Tech, Metal Magic, Mykel's Restaurant, Natron Air, Rick & Rhonda Needs, Nikko Garden, Ninilchik General Store, Rick & Jaye Northey, Odie's Bead It, Orca Theatre, Our Best Friends, Passions Too, Peninsula Auto & Truck Parts-Kenai, Penner Construction, Pepsi-Cola Bottling Company, Polar Screens & Signs, Freddie & Lynn Pollard, Dave & Shelley Ramsey, Randy's Glass, Rocky's Café, Safe Kids of the Kenai Peninsula, Safeway-Kenai, Save U More, Short Stop Grocery & Gas, Glen & Cindy Smalley, Soldotna Chiropractic, Spenard Builders Supply-Kenai, Sportsman's Warehouse, St. Elias Brewing Company, Sweeney's, Tanglewood B&B, Steve Tarries, Top Video, Trustworthy Hardware, Verba's Hilltop Machine, Vincent's Auto, Randy & Nancy Wheeler.
If we missed anyone, please accept our apologies. Contact any member of the Board of Directors (http://www.akchch.org/contacts.htm) with your suggestions and ideas for improving this function or the operation of the club.